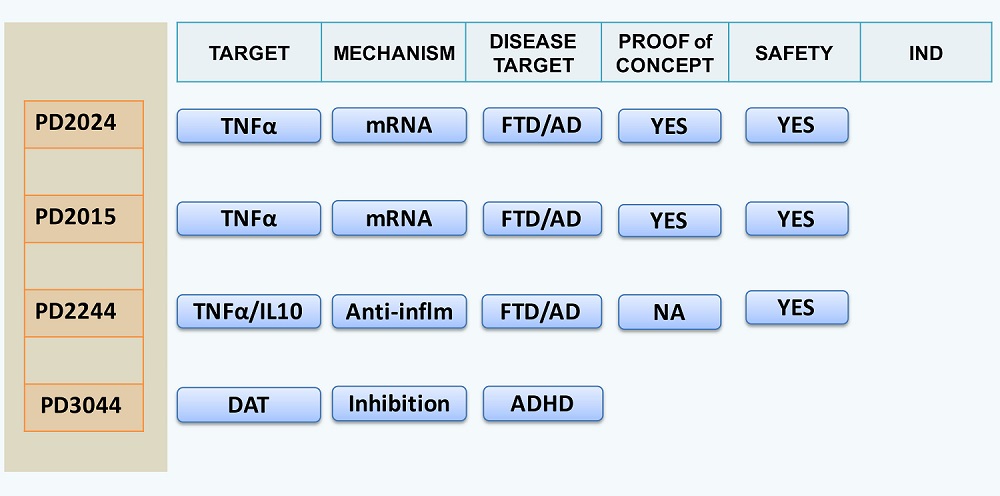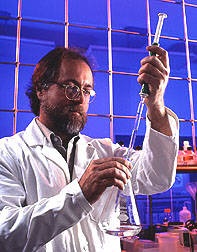 PD2024, PD2015 and PD2244: Frontotemporal Dementia
P2D has developed a series of potent, centrally acting anti-inflammatory drugs for the treatment of Frontotemporal Dementia (FTD), a designated orphan disease. These compounds are orally active. Their mechanism of action is inhibition of tumor necrosis factor-alpha (TNFα) via blockade of TNFα synthesis by inhibition of TNFα mRNA. As these TNFα inhibitors decrease both central and plasma TNFα levels, plasma TNFα levels may therefore serve as a target to titrate PD2024/2015 doses to insure adequate target engagement in preclinical and clinical studies. In 3xTgFTD/AD mouse models the compounds block the development of FTD tau-inclusion bodies and block the development of cognitive and behavior deficits in this 3xTg knock-in P301L tau preclinical FTD transgenic model. PD2024 and PD2015 treatment also blocked the development of disease-associated CNS inflammation measured by microglial activation. Therefore, PD2024 and PD2015 both appeared to be disease-modifying agents. P2D's TNFα inhibitors are currently in non-GLP preclinical safety/tox studies.
PD3044 and analogs: Attention Deficit Hyperactivity Disorder

P2D has developed novel, centrally active dopamine-transport inhibitors for the treatment of Attention Deficit Hyperactivity Disorder. Current first line treatments for ADHD are the non-selective dopamine transport inhibitors, methylphenidate (Ritalin™, Concerta™) and amphetamine (Adderall™). Both drugs are Schedule II drugs of abuse administered primarily to children. Parents and physicians have indicated the need for a non-addicting ADHD treatment to replace current first line treatments. Employing structure-activity-relationship studies, a novel benztropine analogs including PD3044 were developed that have improved affinity for the dopamine transporter. The parent compound, benztropine, is a FDA-approved drug in clinical use for over 40 years and has been demonstrated to be safe in humans in multiple clinical studies. In preclinical proof-of-concept studies, these analogs were highly effective at treating ADHD preclinical and biochemical endpoints. These compounds are currently in Proof-of-Concept and non-GLP preclinical safety/tox studies.